Every journey begins with a single step and making the decision to take back your health is a big step forward. With nearly every aspect of our environment affecting us, it's making it increasingly harder to stay healthy. Currently 1 in 3 people are suffering from Metabolic Dysfunction and 3.5 Trillion dollars are spent globally, linked directly to the following three conditions:
91 Million Americans are overweight or dangerously overweight.
29 Million Americans suffer from unhealthy blood sugar levels.
And when it comes to matters of the heart, 71 Million Americans have high cholesterol levels.

Unlike any other program on the market, and with the clinical proof to back it up, the IN.FORM program utilizes the untapped power of the microbiome to support healthy metabolic function. Not only will you learn healthy habits for lifelong success but you will have the expert and group support of fellow participants to walk with you every step of the way. And best of all, you can track your progress along the way with our BioTracker, which measures key biomarkers such as weight, body fat, hydration levels, lean muscle mass, bone mass and your metabolic age. Your Metabolic age is the age associated with how effectively your metabolism is functioning. It should be similar to your biological age or ideally, lower.
IN.FORM is a proprietary, clinically-studied program that combines positive lifestyle changes with cutting-edge supplements and education. By supporting a healthy gut microbiome, the IN.FORM program offers a path to healthy metabolic age and function by supporting healthy body composition, weight management, and cardiovascular function all in one easy-to-follow program.
There's never been a better time to start reversing this trend and make the choice to live a healthier, happier life!
THE MIGHTY MICROBIOME
Did you know that microscopic organisms called bacteria living on and in your body outnumber human cells ten to one? In fact, the total weight of bacteria in your body can weigh anywhere between two and six pounds! This bustling, hidden ecosystem that resides primarily in your gut is known as the microbiome, and emerging science is quickly gaining an understanding of just how important these billions of microorganisms are to our health.
AN IMBALANCED BIOME
Modern diets, stress and environmental toxins can upset the delicate balance of our gut microbiome.
How? Too many 'bad' bacteria in our microbiome can create toxins that make us fat.
Diets high in added sugars and carbohydrates lead to greater populations of certain kinds of microbes that produce toxins. These toxins cause us to use energy inefficiently and store too much of it as fat. Over time, this process can develop into poor metabolic function and unwanted additional weight. These cascading effects can cause our body to operate like that of someone much older! In other words, an unhealthy microbiome can add years to our 'metabolic age.'
There is hope!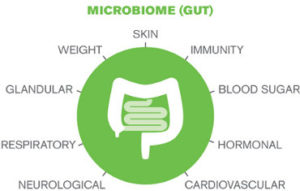 THE BOTTOM LINE
IN.FORM utilizes the untapped power of the microbiome to lower metabolic age. It does this through lifestyle changes combined with proprietary, patent-pending supplementation that targets gut nutrition to support optimal body composition and cardiovascular health.
IN.FORM is completely different than anything else on the market, with the proof to back it up.  Want to know if IN.FORM might be right for you?  Get the conversation started by filling out a contact form and tell me about your situation.